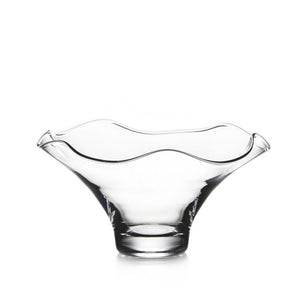 The ruffled rim of the Chelsea Bowl, inspired by flower petals, makes it one of our most distinctive feminine pieces.
Handmade by Simon Pearce glassblowers using centuries-old techniques.
Also available in S and L.
Dimensions : 4½" H x 10½" W x 10½" D
Capacity : 20 ounces
Materials : Glass
Made In : USA
Hand-wash with warm water and mild detergent.
Not intended for use in microwaves or ovens.
Do not expose glass to extreme heat changes, such as filling with hot liquid or placing in the freezer. A shock in temperature can cause fractures.