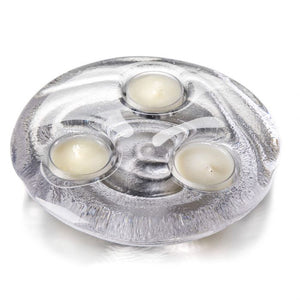 Crafted from clear glass, the glassblowers use heat, gravity and centrifugal force to create this beautifully crafted trio tealight.
Dimensions : 1¾" H x 7½" W x 7½" D
Made In : US
Clean with glass cleaner and a soft cloth.
Extinguish candles before the flame reaches the base.
Do not expose glass to extreme heat changes, such as placing in the freezer. A shock in temperature can cause fractures.